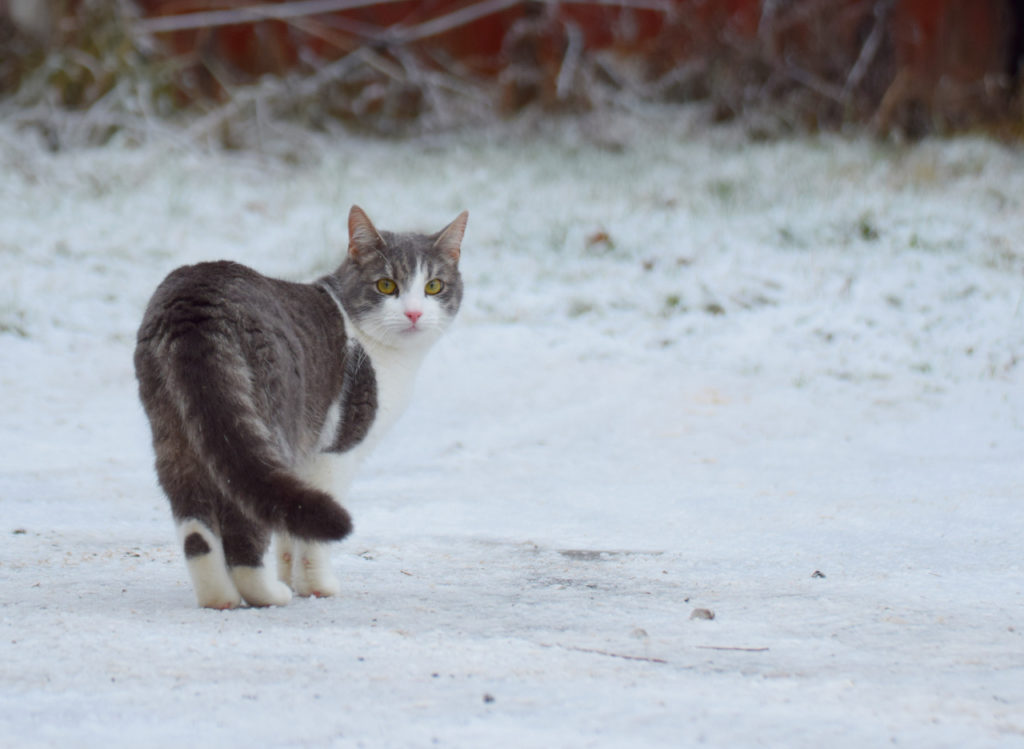 We've all been there – a new cat is running loose in the neighborhood, or you see a dog sitting on the side of road, all alone, watching traffic. Most of us are inclined to help in those situations, to increase the chances of the found pet getting back home.
Think like an animal control officer. Walk the dog around the neighborhood you found him or her in. Sometimes the stray dog will lead you back to their home, or a neighbor will recognize the dog.
Next, call your nearest animal shelter or sheriff to report a found dog or cat. They might have received inquiries from the owner and are hoping to get word from the public. If they have not yet heard from the owner, maybe they will soon.
Play It Safe
Assuming the found dog is not aggressive or injured, and you can safely get the dog into your car or home, you will want to collar and leash them, so that they will not be able to escape you as well; it is very helpful to keep a flat leash that can quickly be looped into a slip-leash in your vehicle. A special trick I learned from a long-time dog rescuer: close your car door on the leash, after putting the pup in the car – leaving only the handle portion of the leash extending from the car. That way, you can grasp the end of the leash in your hand before opening the door, and the dog does not have an opportunity to escape.
No matter how friendly your found dog seems, you will want to segregate him or her from your other pets and children. They may be scared, anxious, not fond of certain other animals or good with children – so find a quiet, secure area to keep them in. In addition, the found pet might have parasites or illnesses. Administer first aid if necessary – salve on tender paws, offer food and water, and carefully examine them for any wounds.
Identification Checking: Tags, Microchips, Tattoos
If they have a collar and identification tag on, great! Call the number listed on the tag, and hopefully that will be all that is necessary to get the pup back home.
If identification in the form of an up-to-date tag is not immediately available, you will need to have the dog scanned for a microchip. This can be done at any veterinarian's office, and should be free of charge. If you are near a PetSmart or Petco that has veterinary services, you can also have them scanned there. If the dog is chipped, then contacting the chip manufacturer with the information should (but not always) lead to a reunion with the dog's owner.
Dogs are sometimes tattooed with identification – this practice is not as widespread, but you should look to see if they are tattooed inside one of their ears or on the inside of one of their legs.
If none of these means of identification are found or lead to dead ends, the next step would be to quickly put up "Found Dog" posters in the area where you found him or her. Try to make the posters as eye-catching as possible, and always reserve some detail about the dog for proper identification by the owner – whether or not the dog is neutered, whether he had a collar when found, or another unique identifying detail about the dog – you will use this information to ensure the proper owner is claiming the dog.
Post the same information as a "Found" ad in the Pets and Lost & Found sections of Craigslist, local "Lost Pet" pages on Facebook, and any other local papers or sites – do a Google search for "lost pets" in your particular area. While posting the found dog information, be sure to check the "Lost" postings as well!
As mentioned above, please keep an identifying detail to yourself, so that it can be used to ensure the proper owner is trying to claim the dog.
Notify Local Animal Control Authorities
Most counties in the United States require that found pets be turned over to local animal control authorities. Although some may be reluctant to do so, because of shelter overcrowding, the specter of possible euthanasia at the end of the mandatory stray hold period, or the chaos of the shelter – often this is the first place pet owners will try to locate their animal. Depending on the practices of your local municipal animal shelter or system, you may be able to foster the dog until the owner is located, or be notified at the end of the stray hold if the dog goes unclaimed. The stray hold period varies from state to state – be sure to find out what the mandatory hold period is. It can be as short as 48 hours and as long as seven days.
At any rate, you should quickly notify the proper authorities that you have found a lost dog and have been unable to immediately find their owner. Be sure and request that they re-scan the dog for a microchip if they take the dog in – sometimes shelters are equipped with different universal scanners that will locate a chip that a veterinary office was unable to read. Post found information on their bulletin board, and ask if there are additional resources for posting your found dog.
If you are unable or unwilling to foster while an owner is found, or to adopt the dog yourself at the end of their hold period, but still want to ensure their safety, you should request the intake identification information for the dog (they will be assigned an ID number), and keep in contact with the shelter regarding the dog's status, while starting to network with various local rescues for assistance during the stray hold period, in case an owner is not found and the dog requires rescue for any reason.
Helping Lost Pets.com website makes a point about finding a lost dog: "THINK LOST, NOT STRAY," and before you consider keeping a found dog, be sure you have done all you can to reunite him or her with their family!